May 21, 2014 § Leave a comment
I think it's safe to say (ok now I hope I didn't just jinx myself) that the cold weather is here gone for good.  Temperatures have been averaging high 60's to low 70's, so it's still a bit chilly for my tastes (I think I must have low body temperature…) but it's a warm warm welcome from that horrid winter. I'm looking forward to mid 70's-low 80's, as that's my ideal temperature, for both comfort and style. Too hot- and all I want to wear is a light dress with no accessories (jewelry sticking to skin—no bueno), and too cold…well, I just layer and layer till I look like a roly poly—and not a cute one. Slightly breezy and balmy spring/summer nights allow for creativity through light layers. I like to mix and match the basics below for an effortless, chic look.
The cropped jacket – Everlane swing trench / AE denim vested hoodie


The basic T – LOFT striped vintage cotton T / Madewell v-neck pocket T


The mini – J. Crew – cotton bell / Desire Clothing – mint pleated chiffon mini


The maxi – Double Dutch strapless maxi / River Island waisted maxi

May 2, 2014 § Leave a comment
Ha, I must've spoken too soon. After posting that I had been good this past month, I ended up purchasing not one, not two, but THREE bags from Madewell. All three bags are in the same style– the mini transport crossbody.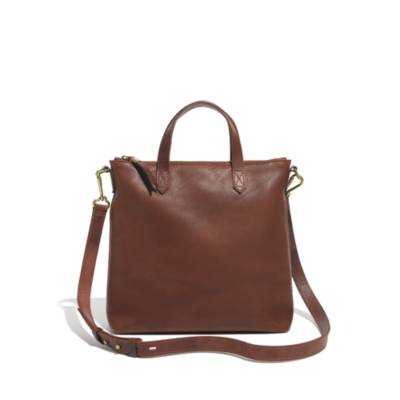 I got two pecan transports (one monogrammed w/ my initials, and the other plain to maybe give away as a gift) and a color-blocked mini transport. In my defense, these bags were discounted 40%, and the color-blocked one in particular was on sale for $99 + an additional 40% off (Both are originally $148). I've also had my eye on the pecan bag for awhile and had been looking for a new crossbody big enough to easily stick my very pretty (but rather large) wallet in.
…Oh, and I may have purchased a few basic t-shirts and tanks in multiple colors (but hey, you can't have too many basics, amrite?).
May 1, 2014 § Leave a comment
In the first few months of the year, I fell into temptation and ended up splurging on all the end of the season sales (J.Crew and Loft took most of my money…). However, since the weather has been getting better in the past 1.5 months (though it still quite cold and today it was POURING), I have been eating out more, and thus, have shifted my finances more towards food.
My major purchase of the month was the weekender duffle bag from Everlane. My friend Evelyn has been touting the company's t-shirts for years, and when I came across the site recently, I was surprised to see this gorgeous duffle bag. I spend my weekends at Hkb's, and so, every Friday, I bring my weekend duffle to work so I can go to straight to his place when work is done. The interior of my old duffle was shedding its rubber lining all over my clothes, so it was in the market for one. I fell in love with the simple, clean, look of the bag immediately, and after reading reviews on the bag, I was sold. My one apprehension was that there was no crossbody strap, but that proved to not be much of a problem; as a 5'2″ girl, the straps are long enough for the handles of the bag to stay on my shoulders (provided I don't bulk up too much with jackets). In addition to the longer than normal shoulder straps, I was also pleased to find metal feet on the bottom of the bag. I am very impressed by the quality of Everlane's products thus far, and am looking forward to the swing trench and the U-neck which I ordered today.